Coriolanus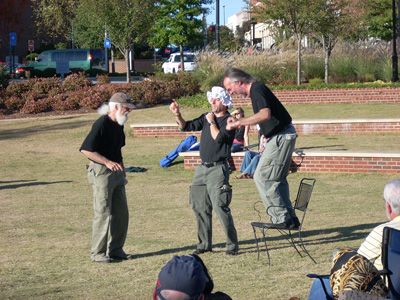 The boys of Lacuna Group pulled off a production of William Shakespeare's Coriolanus on October 25 & 26, 2008, in the Greenville Street Park, and on November 1 at Newnan Community Theatre Company.
They worked together from August through October on Wednesday nights and Saturday mornings, hammering out the production as a collaborative group. With a cast of eight and no set or lights to assist in the illusion, the cast devised staging to show large armies clashing on the battlefield as well as intimate scenes.
Much of the fun in the work came from not only exploring Shakespeare's text but in creating the multiple characters each actor had to handle.
The cast included Jeff Allen, John Bilon, Jeff Bishop, Dan Coleman, Marc Honea, Greg Lee, Dale Lyles, and Kevin McInturff.